3 Steps to Choosing Gloves: When, What and How
Infection Control
Latest News
Resources
While much of our recent pandemic focus has been on masks, let's take a moment to talk about another aspect of safety protocol - glove usage.
In the Ontario spa and esthetics field, the guidance around when to wear gloves comes from both Regulation 136/18 and the Guide to Infection Prevention and Control in Personal Service Settings, published by Public Health Ontario, and most recently revised in July 2019.
These days it seems like revised safety guidance is being issued almost daily by regional health units, and we're finding that there is often a significant variance from region to region. Narrowing in on just one aspect of safety in personal service settings, let's talk about when you might wear gloves during services, and which gloves to choose.
Just like everything to do with infection control, we'll take a risk-assessment approach in deciding when to wear gloves. Once that decision has been made, then we can talk about what glove to wear and how to wear them.
Even before an esthetician, hairstylist, nail tech or any other worker (in a personal service setting) gets to their client, they have to consider the likelihood of coming in contact with blood or body fluids; contaminated surfaces/equipment; mucous membranes and non-intact skin. If it's likely, then workers must wear gloves to protect their hands. If a worker has broken skin on their hands (i.e. rash, cuts, or even just mosquito bites), gloves need to be worn then too.
For estheticians and others who work in the industry, here's the good news: A great-fitting glove will not only offer you protection from pathogens, but it will completely change the way you work – by improving your grip, dexterity and performance, while reducing hand fatigue.
Choosing a glove
Generally speaking, the best approach to finding a glove that works for your intended purpose is to choose the highest quality disposable glove at the best value. It's good to calculate the cost per glove, but it's also important to understand the difference between "price" and "value."
First, let's consider the differences between gloves made from the two most common materials, vinyl and nitrile:
Vinyl gloves are soft and comfortable; a good multi-purpose glove for general use. Newer vinyl styles have excellent elasticity, and vinyl tends to be lower cost.
Nitrile gloves are flexible, strong and durable. They are less likely to cause hand irritation, and are resistant to breaking. They are ideal for using when performing longer services, although they do tend to run at a little higher cost.
All of the gloves we offer are powder-free and latex-free (because of the risk of allergies).
Here are a few glove options to consider: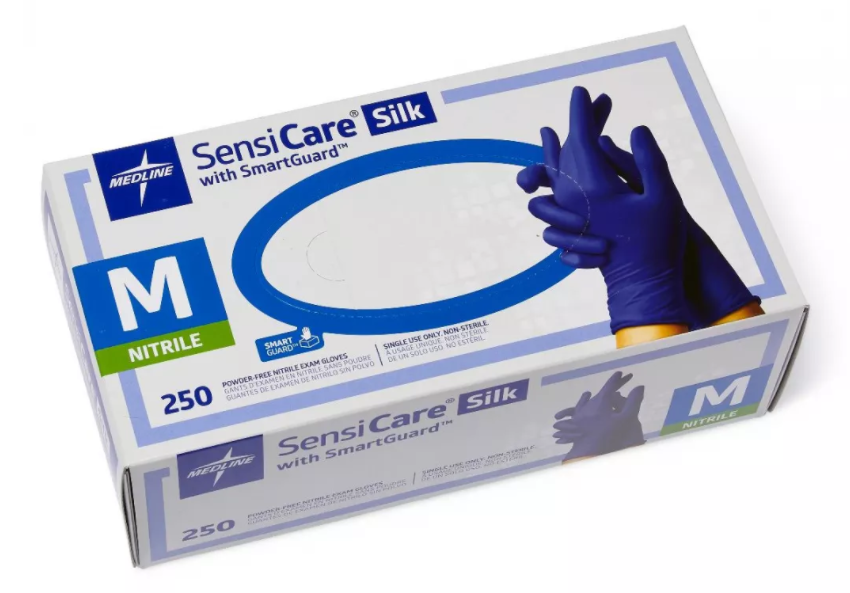 Soft and comfortable with the protection you need. They have lightly textured fingertips to give you a better grip on your tools, and the beaded cuff makes sure the glove doesn't roll up your wrist when you're working.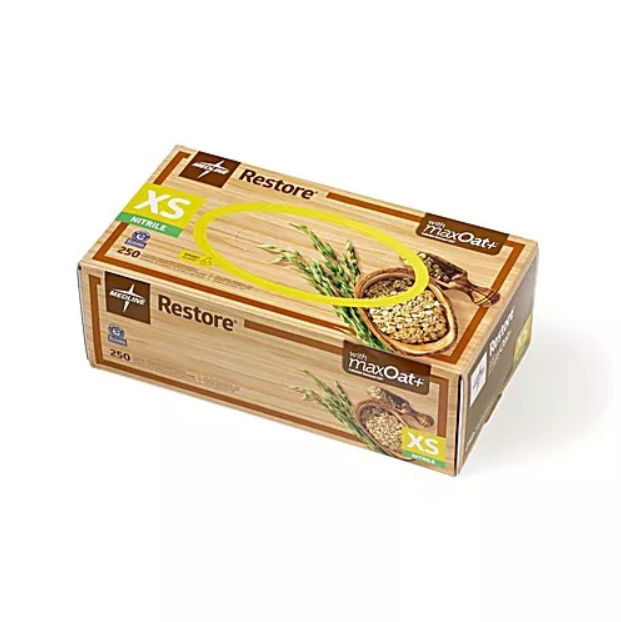 All the hand washing and sanitizing can leave your hands dry, but Restore gloves are coated on the inside with a layer of colloidal oatmeal to soothe and retain moisture. Lightly textured fingertips for enhanced grip.

Aloetouch gloves are more workable, more flexible and more resilient than other vinyl synthetic gloves, with the added benefit of freeze-dried organic aloe to help moisturize and soothe your hands.
How to Wear Your Gloves:
Select gloves that are appropriate to the task, and are well-fitting.
When performing a longer service, nitrile gloves are recommended.
Always wash and dry your hands before putting on a pair of gloves. Gloves should never replace proper hand-washing.
While wearing disposable gloves, don't touch anything other than your client and your tools, and if you need to step away to get products or supplies, you need to remove gloves and get new ones when you come back.
Gloves are single-use and disposable, and need to be changed:
Between clients or different services on clients
When they're dirty, contaminated or torn
After sneezing, coughing, or touching your hair or face
We're always glad to help you choose the best products for your needs, and we can help you get the best gloves for you.
Contact us
to order, or to ask questions. You can also call or text 888-666-7683.